Boat
Jolly Mon Fishing Charters
Jolly Mon Charters operates a 25′ North River Seahawk. The hull is shaped to create a smooth efficient ride with excellent engine efficiency and performance. Fishing purists have long championed the extremely well-built Seahawk as the most comfortable, smooth riding, spacious and stable fishing platform in its class. And with its Evinrude E-TEC G2 250 hp engine, this bad boy can top out at 50 mph.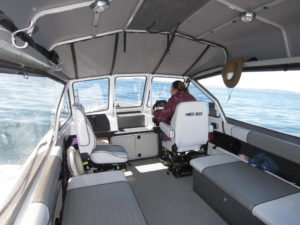 With two air ride captain's chairs, two 54″ bench seats and moveable aft deck chairs, our 25′ North River offers an ample amount of deck space and seating for up to six guests plus crew. Whether we're trolling for salmon or jigging for bottom fish, there is plenty of room for everyone to get into the action. Our enclosed pilot house offers protection from inclement weather and can be heated in cold conditions. If the weather is nice, the back curtain can be removed to open the entire deck space for fishing, relaxing or getting the perfect photo of some exciting action. Your comfort is important to us. We fish this boat just about every day and our comfort is important too. This boat has it. You won't be disappointed!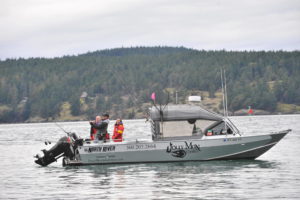 Jolly Mon Charters uses only high quality fishing gear to ensure your experience is a positive one. With names like Lamiglas, Shimano, Shakespeare, Diawa and Scotty, the quality is evident and the amount of time spent fixing gear is nearly nonexistent. Our boat is outfitted with four of Scotty's newest downriggers. 'Dry lines catch no fish.' These monsters are so fast, you'll never be waiting on the downrigger to reset gear. Our 15 hp Evinrude E-TEC trolling motor is tied in to the latest Lowrance autopilot system to provide hands off control so the focus can be put on netting your fish, not driving the boat. We also have a head on board with a privacy curtain to help make those long days not seem so long.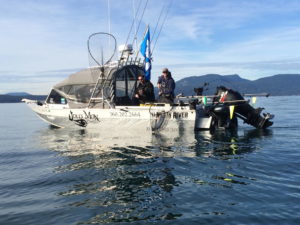 If the peace and tranquility are a little too much for your group, we're equipped with XM/Sirius satellite radio to liven up the party. Or if you prefer your own playlist, bring it along and tie into our system to enjoy your favorites. We also have a DC power source, so if you notice your phone or device is running low on battery, no problem. Just bring along the car charger for your device and we can charge it on board.